About Us
Greeting from president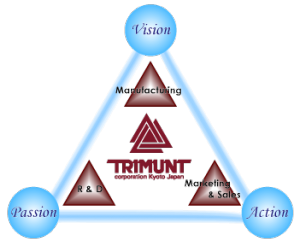 Dear Valued Clients,
Trimunt Corporation was established in Kyoto, Japan in November, 1983. Founded by President Masa Furuki who was born near Lake Biwa, the bigggest lake in Japan, a place where the business philosophy of Omi merchants called " Sanpou-yoshi " originated. "Sanpou-yoshi " means " good for the buyers, good for the sellers, and good for the society ".
For the past thirty years, Trimunt Corporation has strived to provide dental educators and students all over the world with high quality products and state of the art technology and production techniques to meet the satisfaction for all parties concerned. Currently, we are introducing innovative dental training systems and models across the globe. Also, we are developing and supplying safe and natural pet-centered, pet owners-centered, pet society-centered products and training systems for veterinarian schools. In our business we are passionate about enriching the quality of oral care and of animal care. We aim to broaden the knowledge of professionals and students who wish to excel more in the dental society. Our mission is to put a healthy smile not only on our clients but to the world. To do this, Trimunt Corporation is equipped with highly trained professionals working hand in hand to deliver customer satisfaction.
We invite you to explore the various pages of our website and know how Trimunt Corporation can help you achieve your goal in the dental society. Thank you for your time and good luck.
Reo Furuki, President
Trimunt Corporation
---
Corporation
Trimunt Corporation
Establishment
November, 1983
Address
16-1 Nawashiro-cho, Kamitoba, Minami-ku,
Kyoto City, 601-8111, Japan
TEL
+81-75-693-8837
FAX
+81-75-693-8847
Capital
10,000,000 yen (as of November, 2003)
Representative
Reo Furuki, President
Settlement day
October 31st(Once / Yr.)
Our Banks
Bank of Kyoto/The Bank of Tokyo-Mitsubishi UFJ /
Kyoto Chuo Shinkin Bank
(as of November 1st, 2009)